New organic dyes based on D - π - A structural sensitiz-ers for Dye-sensitized solar cells (DSSC's): DFT and TD-DFT investigation.
Keywords:
9-vinyl-9H-carbazole, π-spacer,acceptor, DFT/TD-DFT method, Energy gap.
Abstract
The present research aims to design the new dyes with a D-π-A structure to apply Dye-sensitized solar cells. The D-π-A dyes con-stitute S1 to S9, using 9-vinyl-9H-carbazole (D) as a donor (D); different thiophene derivatives are π- spacers and cynoacrylic acid is an ac-ceptor.For the electronic and optical properties calculation of the studied dyes, use DFT/B3LY-P/6-311G++ levelof theory by using Gaussian 09W software. Using optimized geometrical structures to calculate the UV absorption spec-tra, utilize the TD-DFT method in the gas and acetonitrile solvent. The HOMO and LUMO en-ergy gap (Eg) values of S5 and S9 dyes show a narrow band gap with 1.8 eV and 1.7 eV, respectively. So all studied dyes have LUMO values higher than the TiO2 conduction band and HOMO values lower than the electrolyte re-dox potential.The UV absorption spectral data shows S5 and S9 have maximum absorption at 759 nm and 803 nm,respectively.So all the stud-ied dyes are suitable for DSSC application.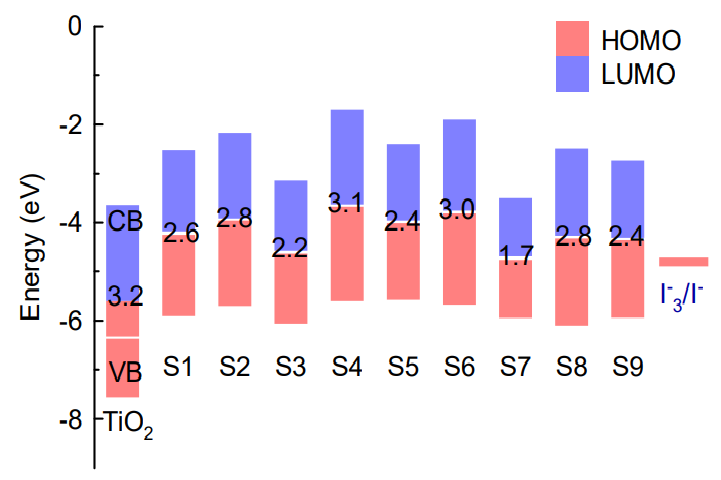 Downloads
How to Cite
Rao, M. Y., Kumar, G. R. ., Sumalatha, P. ., Annam, S. ., & Rao, M. S. (2023). New organic dyes based on D - π - A structural sensitiz-ers for Dye-sensitized solar cells (DSSC's): DFT and TD-DFT investigation. Current Trends in Biotechnology and Pharmacy, 17(3), 1060–1073. https://doi.org/10.5530/ctbp.2023.3.44