Role of Preliminary Data Collection for Nutritional Education of Adolescent (13-15 yrs) in Two Different Regions of South India
Keywords:
Nutrition Education, Nutritional Status, Prevalence of malnutrition, Socio demographic status, Academic performance
Abstract
The study aims at ascertaining the most appropriate communication media to be used to bringing about preliminary data for nutrition education in children for sustainable development. The present investigation was undertaken with the major objective focusing on "Assessment of Nutritional Status and impact of nutrition education among Adolescents (13-15 Yrs) of Vijayawada in Andhra Pradesh and Chennai in Tamil nadu". Total number of subjects from different schools of the two places was 600. Among 600, 300 subjects (both girls & boys) belong to Vijayawada and 300 subjects (both girls & boys) from Chennai. After the selection and briefing the results were constructed based on study protocol, which was constituted based on major areas like - Prevalence of malnutrition, Socio demographic status of the subjects, family type, religion, academic performance, family members education, their occupation and monthly income, finally adolescents socioeconomic status. It was observed in the present study that a large proportion (81.25% in girls and 87.50% in boys) of Vijayawada and (72.41% in girls and 40.47% in boys) of Chennai adolescents under study was normal. This may be due to socio-economic status (SES) of their parents. Which if continued in future, can have long lasting effect on improvement of nutritional status and healthy lifestyle.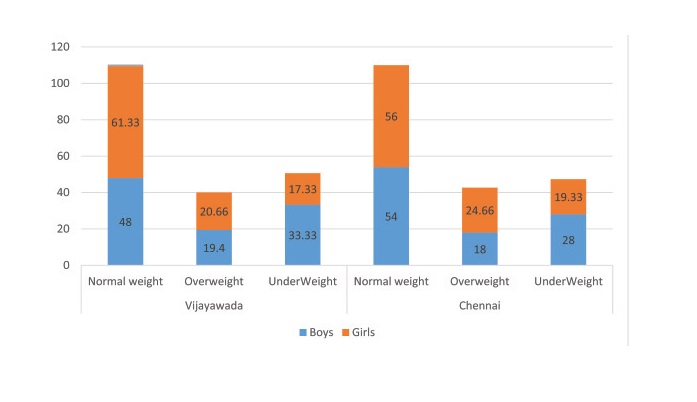 Downloads
How to Cite
K, H., B, B., & Kumari B, L. (2021). Role of Preliminary Data Collection for Nutritional Education of Adolescent (13-15 yrs) in Two Different Regions of South India. Current Trends in Biotechnology and Pharmacy, 15(2), 198–212. https://doi.org/10.5530/ctbp.2021.2.22