A New Insights and Novel Targets for Hyperglycemia from Foxtail Millet (Setariaitalica L.) using Molecular Docking Studies
Keywords:
Foxtail millet, α-Glucosidase, α- Amylase, Vanillic acid, Ferulic acid, Kaempferol, Hyperglycemia
Abstract
The inhibition of α-glucosidase and α- amylase, enzymes which are implicated in the digestion of carbohydrates, can evidently decrease the post-prandial increase of blood glucose levels. It can be an significant approach in the management of blood glucose level in type 2 diabetic and borderline patients. At present, there is renewed attention in plant-based medicines and functional foods modulating physiological reactions in the prevention and treatment of diabetes and obesity. The plant kingdom is a extensive field to investigate for natural effective oral hyperglycemic agents that have insignificant or no side effects. Consequently, natural α- glucosidase and α-amylase inhibitors from plant sources offer an prominent strategy for the control of hyperglycemia. Nowadays majority of the people divert towards millets and taken the millets as a meal in the place of rice as because they show key results on who are suffering from hyperglycemia. Foxtail millet [Setariaitalica (L.) P. Beauv.] is a member of poaceae grass family found in both arid and semi-arid regions which is principally used as a fodder and cereal crop. All the food products prepared from foxtail millet are efficient in reducing the blood glucose levels both in normal as well as diabetic patients. To identify human α-glucosidase and α-amylase inhibitors phenolic compounds (Vanillic acid, Ferulic acid) and flavonoid (Kaempferol) of foxtail millets were screened using the structural based molecular docking approach. The findings of this study revealed that all the tested compounds exhibited inhibitory activity against both the enzymes. Comparatively among the three inhibitors tested kaempferol flavonoid was more effective with - 261.79Kcal/mol and -404.66Kcal/mol of binding free energy values against α-amylase and α- glucosidase correspondingly. This insilco study paves the way to further research on foxtail millets (Setariaitalica L.) inhibitory compounds associated with hyperglycemia.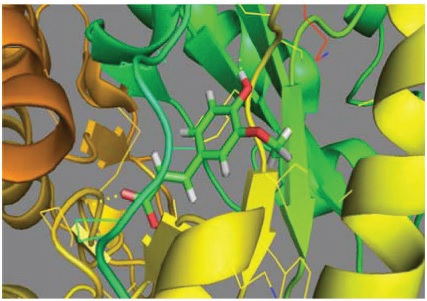 Downloads
How to Cite
Reddy B, V., Mohan Reddy C.V., C., Sekhar, A. C., Obul Reddy, P. C., & K, S. (2021). A New Insights and Novel Targets for Hyperglycemia from Foxtail Millet (Setariaitalica L.) using Molecular Docking Studies. Current Trends in Biotechnology and Pharmacy, 15(2), 213–219. https://doi.org/10.5530/ctbp.2021.2.23