In vitro Callus Regeneration of Caralluma bhupenderiana Sarkaria - An Endangered and Endemic Medicinal Plant
Keywords:
Callus induction, 2,4-Dichlorophenoxy acetic acid, C. bhupenderiana
Abstract
An effective in vitro callus regeneration protocol was standardized for the endangered, endemic succulent plant Caralluma bhupenderiana Sarkaria. Explants from healthy stem seg-ments were cultured on Murashige and Skoog (MS), (1962) medium, Gamborg's B5 (B5) and Woody Plant Medium (WPM) supplemented with 2,4-D 3mg/l for callus induction. Of all the media tested, MS medium with 2,4-D demon-strated the best callus response. Effect of dif-ferent concentrations of auxins (Indole 3- Acetic Acid, Naphthalene Acetic Acid, Indole 3- Butyric Acid and Indole 3- Propionic Acid and 2,4-Di-chlorophenoxy acetic acid) on callus induction was examined. However, 2,4-D (2mg/l) elicited the best callus induction. Plant regeneration was examined on MS medium fortified with 2,4-D (2mg/l) supplemented with various concentra-tions of cytokinins (Benzyl-6-adenopurine and Kinetin; 0.1 -0.4mg/l). Although significant shoot numbers were observed under the influence of 2mg/l 2,4-D and 2 mg/l BAP, the effect was pro-foundly increased upon second subculture in the same medium. The propagated shoots were kept for rooting on ½ strength MS medium sup-plemented with 0.1 mg/l NAA. Complete plants were developed and matured with a mean num-ber of 12.06 ± 0.06 and root mean length of 3.00 ± 0.02. All the plantlets were acclimatized in the shade net house with a survival rate of 70%. The regenerated plants did not show any imme-diate notable phenotypic variation. The in-vitro protocol developed in the current study helps in the bulk production of Caralluma bhupenderiana and could be a good alternative non-con-ventional technique for conservation of rare and endemic species.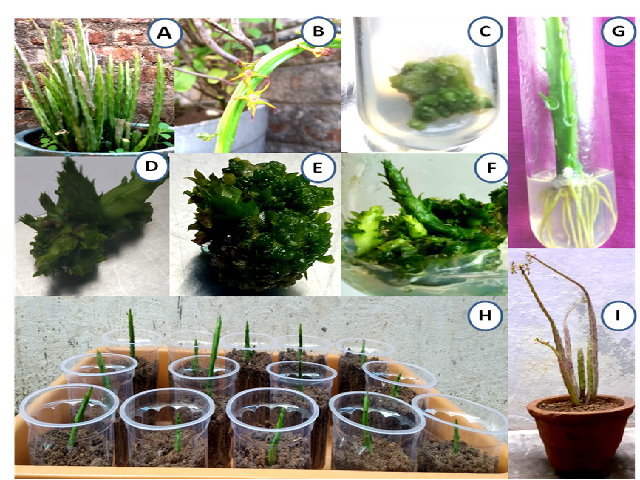 Downloads
How to Cite
Pachipala, G. ., Vemula, R., Reddy, P. V. B., Karuppusamy, S. ., & Chadipiralla, K. (2023). In vitro Callus Regeneration of Caralluma bhupenderiana Sarkaria - An Endangered and Endemic Medicinal Plant. Current Trends in Biotechnology and Pharmacy, 17(3), 959–967. https://doi.org/10.5530/ctbp.2023.3.33