C4 Photosynthetic Enzymes Engaged in the Habituation of Allium cepa L. Seedlings to Drought Stress
Keywords:
Drought stress, PEG-6000, PEPC, NADP-ME, PPDK, Onion cultivars, C4 enzymes
Abstract
Drought is one of the major stress which affects agricultural crop productivity around the world. In this study the role of Phos phoenol pyruvate carboxylase (PEPC, EC 4.1.1.31), NADP-malic enzyme (NADP-ME, EC 1.1.1.40), and pyruvate, phosphate dikinase (PPDK, EC 2.7.9.1) in different onion cultivars (Allium cepa L.) under drought stress was investigated.An elevated specific activity of these three enzymes was monitored in onion cultivars after 8 h of drought stress. With the increasing concentration of drought there was an increase in C4 enzyme activities. PEPC showed 3.5-fold increase after 24 h, NADP-ME 3.9-fold, and PPDK 3.2-fold increase was observed in Arkalalima (AL)onion after 48 h when compared to control. Statistical analysis including regression analysis suggested significant results to onion drought resistant cultivars under drought stress condition. The results revealed that the variety AL exhibited best response followed by Arkakirthaman (AK) and Bellary(BL). Therefore PEPC, PPDK and NADPME participate in the drought response of onion, a C3 Plant. Future research will allow further understanding of the drought stress mechanism of adaptation of the onion germplasm to drought.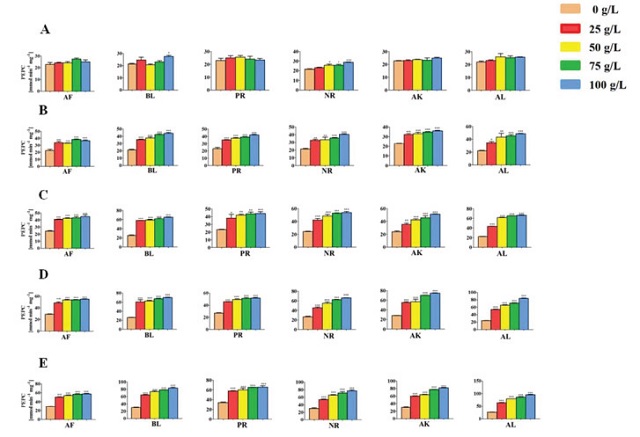 Downloads
How to Cite
K, R., N, R., Shankar P, C., & Reddy E. C, S. (2021). C4 Photosynthetic Enzymes Engaged in the Habituation of Allium cepa L. Seedlings to Drought Stress. Current Trends in Biotechnology and Pharmacy, 15(2), 153–163. https://doi.org/10.5530/ctbp.2021.2.17