A Comparison of Bolus Doses of Norepinephrine and Phenylephrine in the Treatment of Hypotension During Spinal Anaesthesia for Caesarean Section.
Keywords:
Caesarean section, Hypotension, Norepinephrine, Phenylephrine.
Abstract
Phenylephrine is the first line choice for prevention and treatment of hypotension during a caesarean section under spinal anesthesia. However significant bradycardia caused by phenylephrine, is a concern. As a result, norepi-nephrine boluses have recently been proposed as an alternative to phenylephrine boluses.This study aim to compare the bolus doses of nor-epinephrine and phenylephrine to treat spinal hypotension during caesarean section and to compare the effects of phenylephrine and nor epinephrine on maternal heart rate, neonatal APGAR score and neonatal blood gas values. A randomized prospective double blinded study was conducted in 52 parturients of ASA 2 cate-gory, within age 20-40years undergoing elective caesarean section under subarachnoid block. Parturients in group N received 4mcg of norepi-nephrine and group P receive 50mcg of phen-ylephrine. Blood pressure and heart rate was monitored every 2 min till 10 min, and thereafter every 5 min till the end of surgery. APGAR score at 1 and 5 min were assessed and foetal um-bilical blood was sent for ABG analysis within 5 minutes of cord clamping. The results were analysed statistically using SPSS software. The number of bolus doses of vasopressors required to treat hypotension was significantly lower in N group (P< 0.01). The frequency of change in maternal heart rate from the base-line was more with phenylephrine compared to nor epinephrine. However, no significant bra-dycardia (HR<50) was noted in either group. The changes in maternal blood pressure and foetal parameters were comparable between the groups. There were no episodes of tachy-cardia or hypertension in both the groups. Nor-epinephrine boluses can be considered as an alternative to phenylephrine boluses for treat-ing hypotension during caesarean section as it maintains the maternal hemodynamics and has a comparable effect on foetal parameters.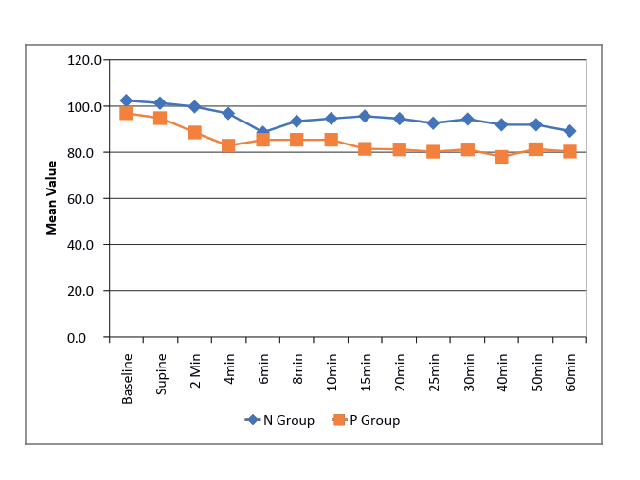 Downloads
How to Cite
Alexander , G., Balakrishnan, R., & George, T. . (2023). A Comparison of Bolus Doses of Norepinephrine and Phenylephrine in the Treatment of Hypotension During Spinal Anaesthesia for Caesarean Section. Current Trends in Biotechnology and Pharmacy, 17(3), 1030–1040. https://doi.org/10.5530/ctbp.2023.3.41