In Silico Molecular Docking of the Antimalarial Flavonoid Compound Macaranga (Macaranga tanarius) Against the PfDHFR Enzyme
Keywords:
Malaria, Antimalarial, Macaranga
Abstract
Malaria is an acute febrile disease caused by the parasite Plasmodium spp. It is a global health problem, especially in Indone-sia. Drug resistance to antimalarial drugs is one of the health challenges faced. The discovery and development of new antimalarial drugs to overcome the current antimalarial drug resist-ance are highly needed in the future. Natural substances, especially from plants, are wide-ly used in antimalarial treatment. One of them is the Macaranga plant (Macaranga tanarius), which is used as an antimalarial remedy in Kalimantan. The aim of this research was to conduct in-silico molecular docking of potential antimalarial chemical compounds found in the Macaranga plant. The analysis method used in this study was in-silico molecular docking using AutoDock v.4.2.6 software, and the data was visually analyzed in two dimensions using Lig-Plus v 1.4.5. The research results showed that the compound Tanariflavanone D had a lower binding free energy (ΔG) of -9.44 kcal/mol com-pared to the native compound WRA609 (ΔG = -8.44 kcal/mol) and the positive control com-pound Pyrimethamine (ΔG = -7.06 kcal/mol). Tanariflavanone D is suspected to have activity in inhibiting the PfDHFR enzyme, thus potential-ly serving as an antimalarial drug.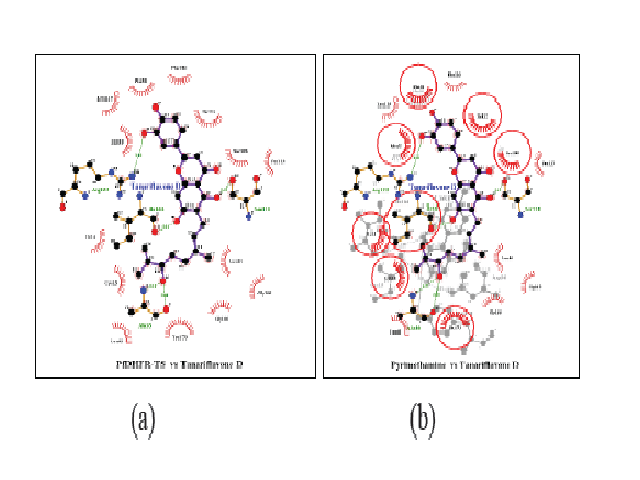 Downloads
How to Cite
Sandy, S. . (2023). In Silico Molecular Docking of the Antimalarial Flavonoid Compound Macaranga (Macaranga tanarius) Against the PfDHFR Enzyme. Current Trends in Biotechnology and Pharmacy, 17(3), 929–936. https://doi.org/10.5530/ctbp.2023.3.30