Novel Synthesis of Isatin-Thiazole Pharmacophores and their Cytotoxicity Evaluation
Keywords:
Halo substituted isatins, Phenylhy-drazine, 2-hydrazino benzothiazole, 6H-indolo 2, 3-bquinoxalines, MTT ASSAY
Abstract
Novel synthesis of isatin-thiazole phar-macophores was developed which involves condensation of isatin or halo substituted isat-ins with phenyl hydrazine, 2-hydrazino-benzo-thiazole or 2-hydrazino-4-phenyl benzothiazole yielded the corresponding hydrazones which on further di-benzylation or di-methylation yielded 1,2'-dibenzyl or 1,2'-dimethyl substituted hydra-zones. Furtherisatin or 7-Chloroisatin on con-densation with 1,2-diaminobenzene yielded cor-responding 6H-indolo2,3-bquinoxalines. One of the compound 1-benzyl-5-bromo-7-chloroin-doline-2,3-dione (23) shows cytotoxicity activi-ty against breast cancer cell line (MCF7) with IC50 value 27.23 + 3 μM and also in colorectal cancer cell line (CT26) with IC50 value 17.7 + 8 μM, which was comparable to that of standard Doxorubicin.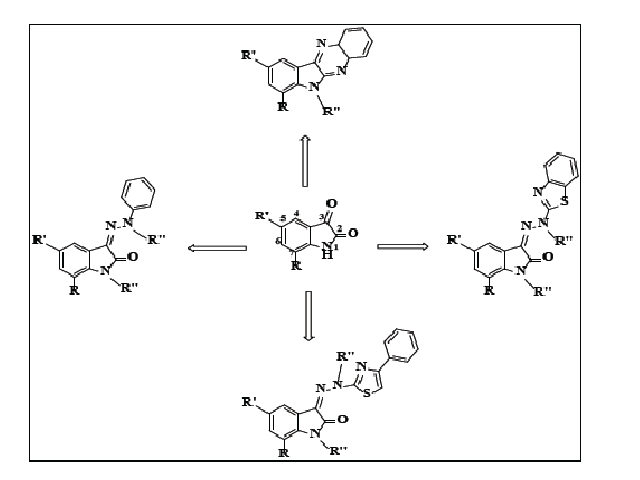 Downloads
How to Cite
Kommu, N. ., Bommakanti, S. S. ., Kundeti, L. S. . R. ., Bhattacharyya, T. ., & Banerjee, R. . (2023). Novel Synthesis of Isatin-Thiazole Pharmacophores and their Cytotoxicity Evaluation. Current Trends in Biotechnology and Pharmacy, 17(2), 788–795. https://doi.org/10.5530/ctbp.2023.2.17